When you are a podcaster, you need listeners. How many—that depends on your own goals and ambitions. Podcasts thrive in the niche. It doesn't take hundreds of thousands of downloads per episode to be successful. Your target group might be as specific as "math-teachers for blind students". There may only be a few hundred people in the world who care about what you have to say on the topic. But podcasting enables you to reach many of those regardless of where they are in the world. So maybe you are happy if you can reach fifty people with each episode you send out. Or you have a german tech-entertainment Freakshow, then five figures per episode might seem right. Or your goal is to challenge Serial, then you need to aim for seven figures.
In any case, you need listeners. Ideally, they are returning listeners: subscribers. On a technical level, podcasts are links to audio files, distributed via RSS feeds. They are designed to be subscribed to. With the rise of capable web players, it is increasingly viable to listen to an episode directly on a webpage. However, many listeners tend to commit to a certain show if they like the host, concept or topic. They trust that once they find a podcast that suits them, they want to listen to every new episode.
There is a plethora of available podcatchers for all platforms and systems: desktop, mobile and cloud. Some have richer ecosystem than others. The main point is: there are ways to subscribe on all systems.
As a podcast publisher, it is in your interest to convert one-time listeners to subscribers. On that quest, you need to deal with two types of listeners:
One, people who come to your website, listen to an episode, love it but have no clue what a podcast is or that there might be more of what they have just heard. You need to teach them about podcasts and provide instructions on how to subscribe.
Two, people who know about podcasts already. They probably have a podcatcher installed on their device. For them, you just need to make it as easy as possible to subscribe. They might be on their phone, following a suggestion on Twitter to your podcast website. Now they want to listen to it in their podcatcher. Traditionally, that meant figuring out the feed URL, copying it, opening the podcatcher, and pasting it in a user interface to add new podcasts. Eww, nerdy.
Imagine instead that there is a button on your website that reads "subscribe". Once clicked, the potential subscriber sees a list of podcatchers available on their device. He clicks on his podcatcher, which opens the app and adds your podcast to the list of subscriptions. Or, if he clicks on an app that's not on his system, the app store opens so he can download the app. People new to podcasts get an easy way to discover podcatchers, and veterans can add a podcast with a few clicks or taps.
This is what the Podlove Subscribe Button does.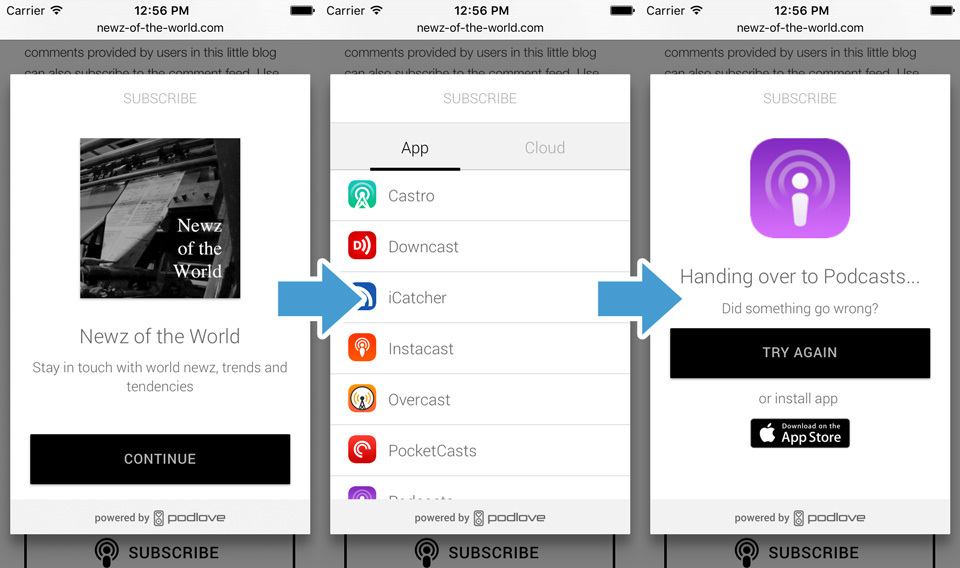 We made it as simple as possible for podcast publishers to add one to their blogs by providing a WordPress widget. In the "Design > Widgets" settings page, look for the "Podlove Subscribe Button" and drag it into the sidebar. That's it, you now have a subscribe button. Recent updates to both Button and Publisher enabled customisations with a few clicks: adjust color, size, format and style if you like. Use the WordPress Customiser view to get a live preview for your changes.
The setup is simple, you enjoy more subscribers (conversion funnel something something) and your listeners can subscribe frustration-free.
---
This article first appeared in the "Publisher Weekly" Newsletter. Subscribe to get new articles delivered to your inbox.