Hi,
we are currently migrating our Podcast from Podbean to Podlove. I just setup the player and publisher plugin in our wp installation.
I have created two episodes, which work: example Episode


Yet, I wanted to include the player of our podcast on our front page, but, as shown in other posts (here or here) I do get:
"Missing media files".


The files are on the server and I can find them.
I have selected Player 5 in the settings of the publisher.
I have used the short code "[podlove-episode-web-player]" on the example page on my wp.
This was based on the documentation.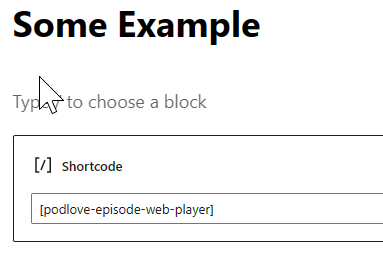 Please take a brief look, if you can find out how and what I need to change to get a player running.
That would be awesome, Thanks
Tom
Some more info:
Support in Publisher

Website https://windig.info
PHP Version 8.1.9
WordPress Version 6.1.1
WordPress Theme Hello Elementor v2.6.1
Active Plugins
- Akismet Anti-Spam v5.0.2
- Complianz | GDPR/CCPA Cookie Consent v6.4.0
- Elementor v3.10.1
- Podlove Podcast Publisher v3.8.2
- Podlove Web Player v5.7.1
WordPress Database Charset utf8
WordPress Database Collate
Publisher Version 3.8.2
Publisher Database Version 153
Web Player Version player_v5
Monolog Version 1
open_basedir ok
curl Version 7.29.0
iconv available
simplexml ok
max_execution_time 900
upload_max_filesize 256M
memory_limit 768M
disable_classes
disable_functions opcache_reset,opcache_get_status
permalinks ok (/%year%/%monthnum%/%day%/%postname%/)
podlove_permalinks ok
podcast_settings ok
web_player ok
podlove_cache on
assets

0 errors
0 notices
Nice, Everything looks fine!